Overview of RUSTEC VCI Films
- VCI Films for which VCI Resin and polyethylene resin undergo the extrusion process.
These rust-resistant films are used for export packing, transportation, and storage of ferrous and non-ferrous metals.
●
Features and Advantages
▶ VCI films are highly resistive to humidity and feature the high-level workability owing to the various sizes and excellent
processability. (bag, sheet, box type)
▶
Corrosion inhibition is possible even in fine corners as vapor penetrates into a metal of an irregular shape that makes it
difficult to apply anti-rust oil.
▶
Since evaporation proceeds slowly inside the film, the corrosion inhibitor effect lasts long.
It is possible to identify the
content even without opening the container since the film is transparent.
▶
Since there is no need to apply anti-rust oil, working environments can be maintained clean.
With no need for grease
removal or follow-up works, the process is shortened and cost saving.
▶
The work is easy and cost-saving compared to vacuum packing while the effects are similar.
▶
These products have passed the SGS RoHS TEST (EU Restriction of Hazardous Substances Directive).
●
Applicable Areas of RUSTEC VCI Films
▶ Automobile area : chassis parts, engine, axle, clutch, and various steel parts
▶
Ship and aircraft area : engine parts, electric parts, power generator, motor, pipe, etc.
▶
Heavy machinery area : heavy equipment parts, power generator and turbine, transporting machinery, grinder,
printer, pump, tank, etc.
▶
Precision machinery area : camera, clock parts, various gauges, jig, robot parts, medical machinery, etc.
▶
Electric/electronic area : various batteries, memory card, motor, switchgear panel, communication equipment,
printer substrate, etc.
▶
Material area :
cold rolling steel plate, coil, wire rope, various wires, pipe, etc.
▶
Munition area :
cannon, shotgun barrel, cannonball, caterpillar, jet engine, bayonet, grenade, magazine, mine, etc.
● Types and Product Specifications of RUSTEC VCI Films
- RUSTEC FM-100: General-use FILM - ferrous and non-ferrous metal protection
- RUSTEC FMS-200: General-use FILM-ferrous metals, silver, copper protection
* Anti-static electricity treatment- applicable to electric/electronic appliances.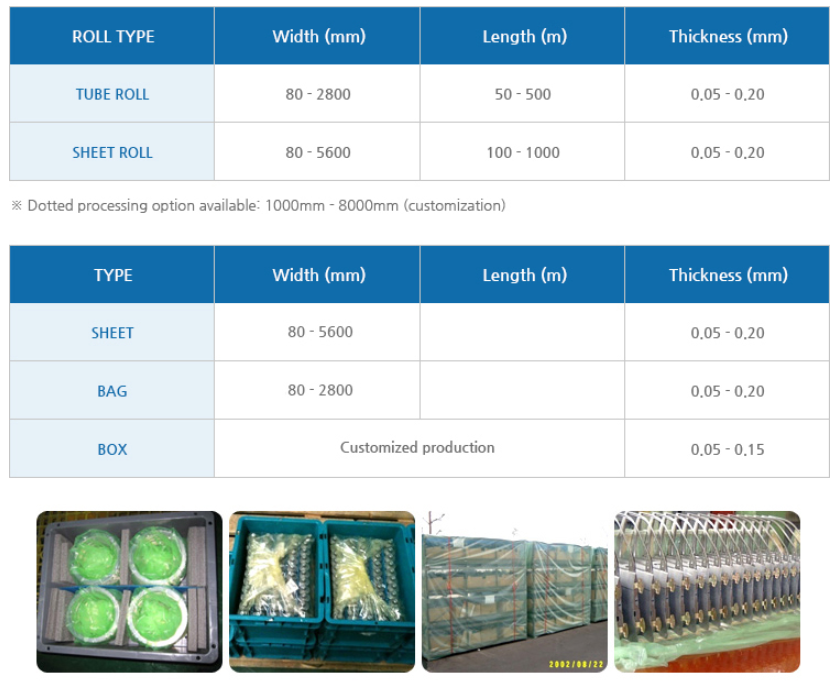 ● Uses and Working Process of RUSTEC VCI Films
▶ How to Use
- Contents in the package should be in a clean state with no foreign substance, fingerprint, or rust.
- Put contents to be packed in the film and seal them. (thermal sealing, taping, cable tie, etc.)
- If the film packing size exceeds 8m2 (standard size) or the surface area of the contents to be packed is three times
as large as the VCI Film area, corrosion inhibitor supplements should be added.
- Corrosion inhibitor supplements include VCI powder, etc.
Consultation may be necessary depending on the packing conditions,
- Avoid direct sunlight and humidity. Seal the package before storage.
▶ Corrosion inhibitor period
- 1 year or longer (The period may be extended depending on the packing condition)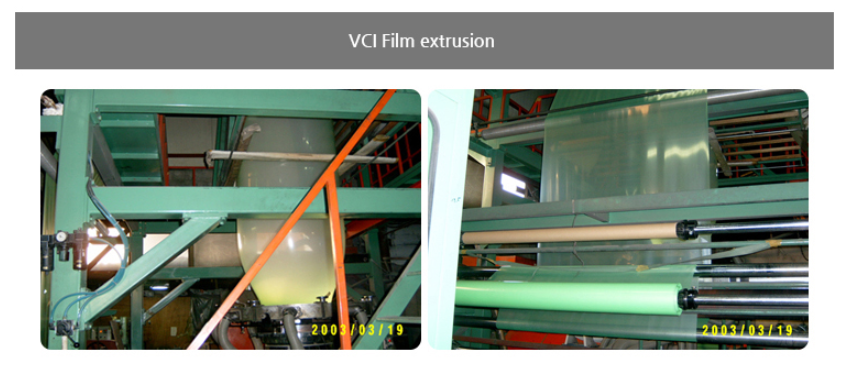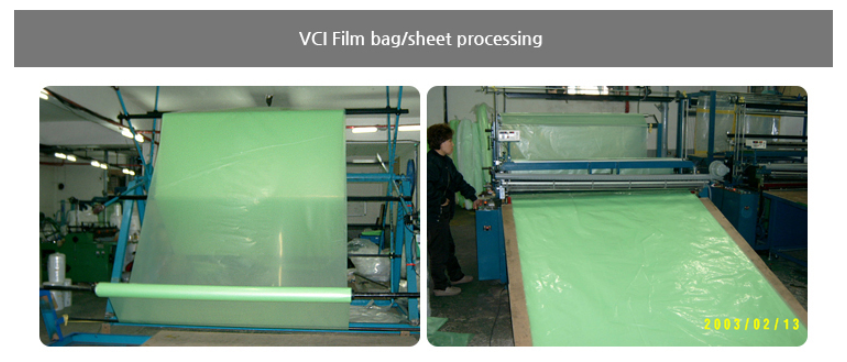 ● Application Metals for RUSTEC VCI Films