- It is named silicon dioxide. It is the one of the abundance material in the earth which is a colorless and transparent solid and it is molecular weight is 60.09. Chemical structure is a tetrahedron structure that four oxygens surround one silicon, SiO4.
In this structure, it has a three-dimensional giant molecular structure which silicon shares all oxygens.
Since long time ago, Silicon is a material which has distinguished properties that used widely in the refractories,glasses, jewllery industry. Recently the purity and shape was been able to controlled so it is value-added and particle using was more various.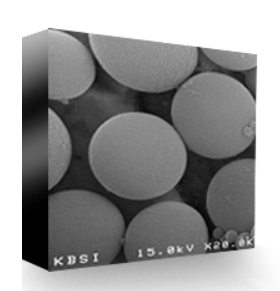 - It is applied to catalyst, electronic materials, absorbent, filler, light weight structure material, humidity sensor, photoelectric elements, collodal damper, etc because the particle surface has high specific surface area which has numerous holes. Especially it is application range is extending for it is many good points in physics and chemical side.
- Silica has very many pores contains in the surface of the particle and it has a high specific surface area
- Filler of electronic components, Adsorbent, Light structure material,
Humidity sensor, Photoelectric element, Colloid attenuator
▶
Representative physical properties
- Image of Scanning Electron Microscope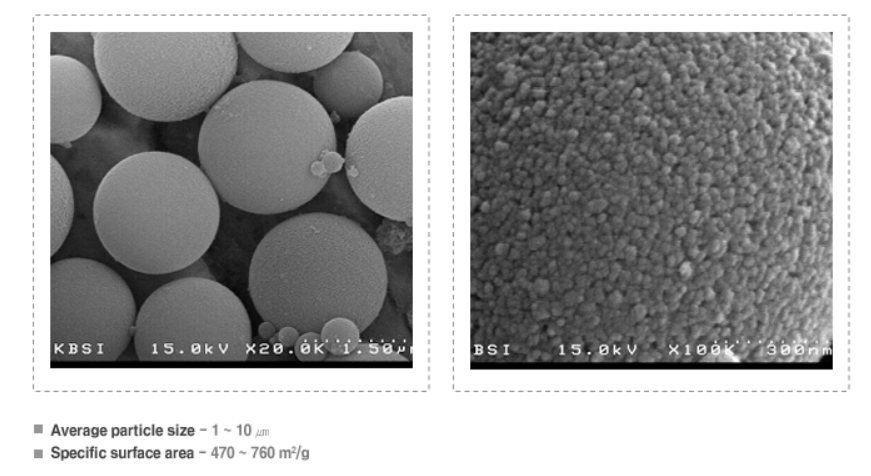 - Microscopic hollow sphere powder which has empty space inside has some characters like a low desity, high specific surface area, high stability etc. These product is been using extensively in several fields such as pigments, cosmetics, inks, fillers, DDS, diagnosis reagents, artficial cells etc.
- Hollow sphere silica has low density, Large specific surface area, High stability.
- Cosmetics, Electronic ink, Filler, Drug delivery system(DDS), Diagnostic reagent
▶
Representative physical properties
- Image of Scanning Electron Microscope