●
What is Soft Etching Series?
- The HMC series produces excellent copper surface irregardless of the copper material used in the PCB manufacturing process.
In addition, it is a soft etchant of sulfuric acid and water type that provides strong adhesion between copper and dry flim reist which is essential for fine pattern formation.
▶ For preprocessing of D / F, S / R
: Dry film resist, Solder resist
▶
Uniform illumination forming a copper surface after etching
: Improve adhesion to dry film and ink
▶
Excellent stability of hydrogen peroxide
: Available both Spray and dip process
▶
High economic efficiency
: Excellent performance at low concentration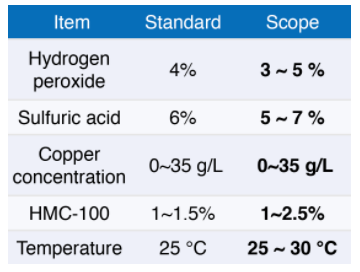 ●
Surface according to etching amount